Resources for Class Teaching
Audrey's guide for class teachers.

Welcome!
I hope that you will find this site a useful resource with which to support your pupils' music-making!
The Full Pitcher has long been engaged in research to find ways ways of widening opportunities for people of all ages and abilities to become involved in music creation and performance in the classroom, studio or home. This website, inspired by the research, features several publishing innovations:
Creativity &Inclusion
This article explains the ethos of this website and its resources with particular reference to class teaching
Creativity & Inclusion
Online Music Section
The audio playback of our e-format catalogue can provide a valuable online teaching resource for schools, the music being used as backing tracks for singing/playing and improvisation. We often suggest activities for particular scores.
Creative Software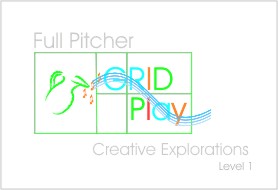 GridPlay: Creative Explorations
packages make it easy, and fun, for non-specialist teachers to develop the musical creativity and understanding of their pupils. Each consists of a number of mini-programs, or 'grids'. Many feature virtual instruments which can be played with a mouse or trackball. These 'instruments' are pre-configured to facilitate exploration of improvisation activities described in the accompanying notes, even by those who are unable to play conventional instruments. The packages include comprehensive teaching materials with lots of suggestions for creative activities and ideas for combining the software with the other music resources likely to be found in the classroom.
Level 1: Foundation & Key Stage 1
Level 2: Key Stage 2 (+)
Directory of Priced Resources
ICT-based Curriculum Resources for Key Stage 1
ICT-based Curriculum Resources for Key Stage 2
ICT-based Curriculum Resources for Key Stage 3
ICT-based Curriculum Resources for Key Stage 4
Seasonal Resources
The Seasonal Fun*
page is relevant to the classroom, covering many areas of the QCA programmes of study. This page, changed each season, explores selected scores, with suggestions for mixed ability group music-making.
Kids' Pages
Kids' Pages
, part of the 'Get Creative' magazine section, offer suggestions for improvisation and composition activities that are equally suited to home or classroom exploration.
Class Projects
Get Creative: Some Class Projects
has free resources to support improvisation and composition in the classroom. Most are registered with Curriculum-Online.
Classroom Ensembles
Creative activities are also supported by extensive teaching notes for some of our
Classroom Ensembles,*
demonstrating how they can be used as starting points for improvisation and composition in the classroom.
* denotes an audio playback page
Integrated Use of Resources
Integrated use of our sheet music and online resources
Once pupils have been supplied with printed parts, our resources can be used to support their learning in many ways:
- allowing pupils to hear how their parts should sound
- allowing the teacher to direct support where it is most needed, freed from the need to act as accompanist
- supporting singing and playing in parts, by allowing pupils to follow an independent musical part within an ensemble
Music for Transposing Instruments
If some of your pupils play transposing instruments, the music will need to be suitably transposed. We can supply our ensemble music in custom packs, transposed as required.
Some Common Transpositions
Clarinet in Bb, Trumpet in Bb, Cornet/ Flugelhorn, Soprano Saxophone = +2 half steps
Clarinet in Eb = -3 half steps
Alto Saxophone = +9 half steps
Horn in F = +7 half steps
Some Other Resources
Class Music Teaching Forum
Some Useful Special Needs Information
Custom Arrange & Print
"Music Technology and Curriculum Access"
ISBN: 0-954216-0-6