Christmas Carols E-book
CD-Rom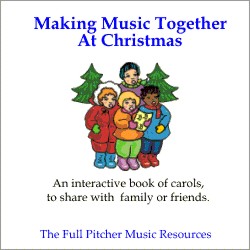 "Making Music Together at Christmas"- a song-book with a difference! This mixture of traditional and new carols is designed for sharing,
with ideas for making music in home or classroom.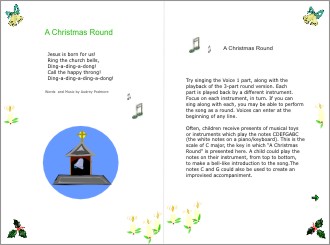 Set out like a normal book, with illustrated pages of lyrics, you can click on a music icon to start (and stop!) the audio playback of a song, at will. No browser is required to run the publication, which has its own viewer and will work on any computer with Windows ' 98, or higher, with a soundcard and a screen display of 1024x768 pixels. Ideal for use on a large monitor or electronic whiteboard.

CD-ROM format for Windows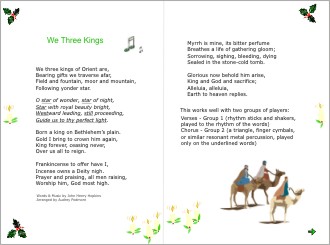 Audio Contents:
Jesus Came To Show It's True - ensemble arrangement
Jesus Came To Show It's True - organ version
I Saw Three Ships - ensemble version
Sorry Joseph! (Children's Play-song) -piano
Away in a Manger - ensemble
The First Nowell - organ
Silent Night- ensemble
A Christmas Round - unison
A Christmas Round - 3 part round,
Sound The Trumpet - ensemble
We Three Kings - ensemble

Machine requirements: Windows '98, or higher
CD ROM drive, sound card with speakers (or headphones)
screen resolution of 1024x768 pixels

EB001 Making Music Together at Christmas (CD ROM, Windows)


home | site map | resources | products | information