Absolute Beginners - Violin
Creative violin music from the very start!

"Merrily I Play Along" has very easy songs that can be mastered in the earliest stages of playing the violin, together with lyrics and lots of suggestions for improvising and composing, right from the beginning.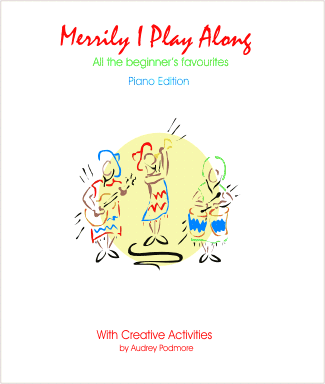 "Merrily I Play Along" allows beginner violinists to share creative music-making with friends, from the earliest stages. Many songs use only the first 3-5 notes in D major and all fall within 1st position on D and A strings.
Songs Included:
1. Suo Gan
2. Fais Dodo
3. Merrily I Play Along
4. Pease Pudding
5. One Man Went To Mow
6. Winter, Goodbye
7. Twinkle, Twinkle
8. When the Saints
9. Jingle Bells
10. Hot Cross Buns
11. Little John
12. Old MacDonald
13. Frère Jacques
14. Aura Lee
15. Au Clair de la Lune
Price: £5.95
---
Stars From the Start
Five satisfying pieces based on the first 5 notes of D major scale. A skilful use of repetition makes these little pieces a pleasing length for first concert items, without requiring a great deal of preparation. They have proved popular with beginners of all ages. The very simple accompaniments will encourage friends with modest piano technique to make music with the beginner violinist.
Dynamics are not marked in the solo part, although they are suggested in the piano score. This leaves the teacher free to edit articulation and dynamics to suit individual abilities. It also means that more able pupils can improvise their own expressive performance.
To listen to one of these pieces, click on a link below to open the Flash player. Then click twice on the "Play" icon to load and play the music.
Price: £5.95
---
Pitch It Right! - Fun Tunes for Early Readers
These very simple tunes for beginner readers use just the first five notes of D major scale, along with nonsense rhymes and activities. Separate Teacher Notes are available, providing pages of games and activities for aural and rhythmic training. Pitch It Right! is ideal for teachers who adopt an aural approach to early tuition, or who use tonic sol-fa.

Includes:

Things Can Only Only Get Better!

All Fingers - And Feet!

Pardon Me!

Dancing Fingers

This Elephant Did Forget!

Listen - opens a pop-up window. Then, click twice on the play button.

home | site map | resources | products | information |