Absolute Beginners
Printed Sheet Music for the Earliest Stages

Creative fun from the earliest stages of playing an instrument: "Merrily I Play Along" builds gradually from 3-8 note melodies, with illustrations, lyrics and lots of creative activities. Versions are available for Piano, Flute, Clarinet, Recorder, Violin and Cello.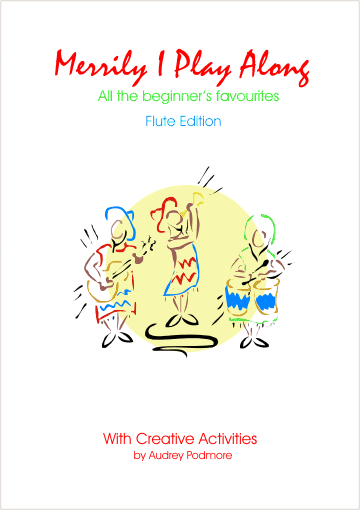 Piano | Flute | Recorder | Clarinet
Violin | Cello

Keyboard/Tuned Percussion

We can supply versions for other instruments on request.
Stars From the Start
Attractive accompanied pieces, making an ideal choice for informal concerts. Having a range of just 5 notes, they can be played in the earliest stages of tuition. With their catchy tunes and accessible technique they are pieces that pupils just love to practise!

Arranged for solo instrument & piano, they can be supplied in any key, to suit beginners on any instrument.

"Stars From the Start" for:

Flute & Piano

Recorder & Piano

Bb Clarinet & Piano

Piano Solo

Violin & Piano

Cello & Piano
Pitch It Right! - Fun Tunes for Early Readers
Very simple songs, for beginner readers, using the first five notes of a major scale. Pitch It Right! is ideal for teachers who adopt an aural approach to early tuition, or who use tonic sol-fa.

Flute (F-C)

Recorder (G-D)

Bb Clarinet (C-G)

Keyboard (C-G)

Violin (D-A)


home | site map | resources | products | information |